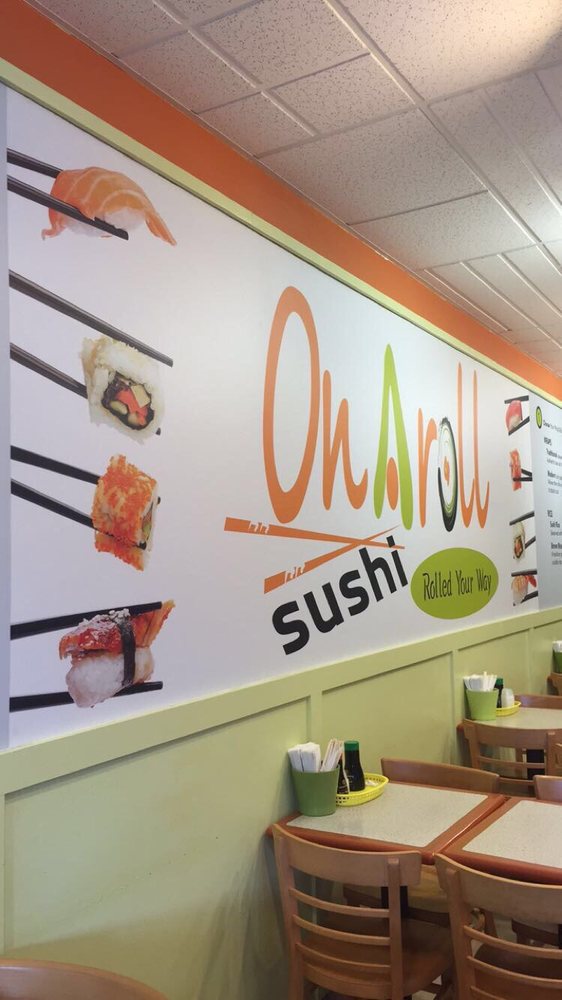 At ONaROLL Sushi we want to develop a concept that demystifies the ART of Sushi for everyone by making it accessible and affordable without compromising the integrity of the cuisine.
Breaking away from the traditional sushi restaurant concept, ONaROLL offers a more mainstream approach to enjoying Sushi. We have kept the classic rolls and have enhanced the experience by allowing the guest to create their own personal roll.
We use only the freshest local produce and start FRESH every morning. The possibilities are endless!
Located in the heart of historic downtown Tampa in the Esplanade, we're bringing a new twist to the ART of SUSHI!
We have something for every taste. From classic sushi for those who have their favorites and our featured SUSHI BURRITO which fuses together unique flavor profiles.
And for those who want to create their own personal flavor combinations, we bring Sushi Rolled YOUR Way! Whatever your appetite desires we have the ROLL for you. 
"We look forward to "rolling" with you!"


"Only ordered by delivery,"
"but I've easily had these place like 20 times. It was one of my go-tos when I worked a corporate job by International Plaza. The rocking roll is rockin' awesome and I always got a custom roll with spicy mayo. I don't eat raw sushi and am very happy with their cooked options!"
Jessica J.

"My favorite sushi place downtown!"
"I love having the option to create my own roll. This sushi is very inexpensive but is still high quality. The flavors and fresh ingredients puts On A Roll Sushi at the top of my list for lunch in Downtown. Portion sizes are large. I also like the cucumber salad. I enjoy being able to spend only $11 for a sushi lunch. I definitely recommend and come here often. "
Nicole S.

"The staff there was amazing ! "
"So friendly. Explained the menu to us. Sushi was freshly rolled right in front of you. Very quickly made. In and out. Best of all Sushi taste great. I had the spicy tuna. And the price was lovely 10 pieces for 6.99."
Courtney H.

" I'll come as much as I can!"
"Every single person individually warmly welcomed me when I walked in. The miso soup is the best I've had. The salad wasn't special but that's fine. The custom-made rolls? Amazing! If I lived in this area, I'd eat here every day. Since I'm only here for a week, I'll come as much as I can!"
Michelle K.
MON – FRI
11:00am – 7:00pm

SAT
12:00pm-6:00pm

SUN
Closed
ADDRESS
101 North Franklin Street
Suite C Tampa, FL